New Devon cycle path links Plymouth with Tavistock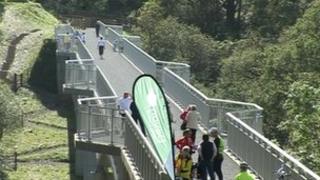 A new cycle path linking Plymouth and Tavistock has been officially opened.
The 17-mile (26km) route follows an old Great Western Railway branch line through a refurbished tunnel built by Isambard Kingdom Brunel.
It also includes Gem Bridge, a £2.1m 1,000ft (305m) long viaduct across the Walkham valley which stands in place of Brunel's original viaduct.
The full route forms part of Drake's Trail, a walking and cycling network which stretches to France.
Economic asset
Grenofen tunnel, built in 1859, was bought by Devon County Council for £1 for the project. It closed to services about 50 years ago.
The tunnel goes under the A386 between Tavistock and Horrabridge and is part of Cycle West's network of routes which includes links to France and covers 750 miles (1,200km).
Jerry Brook, from Devon County Council, said: "Drake's Trail is certain to become an important asset for our county's economy and with its connections to the continent it could generate vital opportunities for local businesses."
Devon County Council financed the trail with funds from the sale of Exeter Airport.
Money was also secured from the European Union, South West Regional Development Agency and West Devon Borough Council.
Councillor Philip Sanders added: "As a keen off-road cyclist I am really looking forward to exploring the rest of this new route.
"One of my greatest pleasures will be watching other cyclists' reactions as they enjoy the experience of using these splendid facilities."