Victorian pottery collection to be auctioned in Devon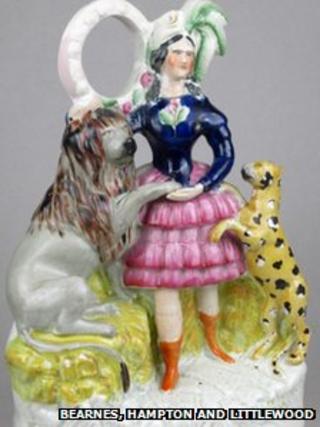 Victorian pottery collected by a Devon antique dealer is expected to raise thousands of pounds for charity.
The Staffordshire portrait figures include royalty, opera stars, Crimean war heroes, actors and lion tamers.
The 2,000 ceramics from the estate of Torbay-based Paul Stockman will be auctioned by Bearnes, Hampton and Littlewood on Tuesday.
The collection has attracted a large amount of international interest.
Auctioneer Nic Saintey said: "There are some rarities in the collection, but there's also something for everybody.
"Fine porcelain was for the great and good, but pottery was for the ordinary people and what Paul Stockman had was a collection of Victorian social history."
When Mr Stockman died in 2010 the collection passed to his wife Dorothy, who passed away in April.
"Not an awful lot is known about the Stockmans outside the trade," Mr Saintey said.
Lion queens
"They ran their business in the Torbay area - Paul was 'front of house' and did the buying and selling, while his wife did the restorations.
"They were very private individuals, but also very enigmatic and shrewd."
One of the pieces being auctioned is of Nellie Chapman, one of the best known lion tamers - or lion queens - of the Victorian period.
The money raised at the auction will be given to local and national charities, including Rowcroft Hospice in Torquay.
Mr Saintey said the lots could raise between £70,000 and £100,000.
"In the 19th Century the Potteries in Staffordshire was the powerhouse of the country," he said.
"This is for people who like exotic animals and all forms of Victorian social history."