GP Neil Rushton leaves Cullompton for Mount Everest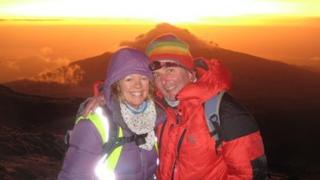 A family GP from Devon is setting off on a working trip to Mount Everest hours after an attempt to swim the channel.
Neil Rushton, 60, from Cullompton will be working for the Himalayan Rescue Association at Pheriche.
He will live with a Nepalese family and work two-days trek below the mountain's base camp.
He said he believed the next three months would be the "most amazing" of his life.
Dr Rushton, who works for College Surgery Partnership, will leave for Nepal on Saturday.
He said he was "gutted" after an attempt to swim the English Channel as part of a six-man team earlier in the day was called off five miles off the French coast because of strong tides.
He said: "It will be challenging both personally and professionally.
"Seventy five percent of my time I will be looking after Nepalese people for free and 25% for trekkers who we charge.
"Some will need to go down by helicopter, others by yak with altitude sickness."
Dr Rushton will work at Pheriche Hospital, two days' trek from Mount Everest's Base Camp.
He said he would be accompanied on the trip by his partner Ceri Lloyd.
He said: "It's a different continent and conditions are different so I've got no computer, lighting will be poor and I've only got electricity for several hours a day and so it's making do with the equipment you've got.
"I've got a good radio so I can get in touch with Kathmandu to get help if needed."
Dr Rushton said that even though he was studying for an MSc in remote medicine it was the "love of mountains, the love of hills, living in the most beautiful place on earth, and appreciating medicine in another culture" which had inspired him.
But he added: "I think it's a mid-life crisis really, I think I should have just bought a BMW motorbike".