Olympic star Mary King rides through Sidmouth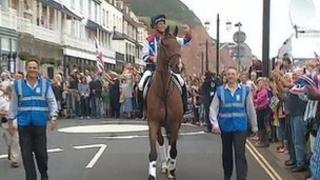 People waving Union flags cheered Olympian Mary King as she rode through the streets of her home town in Devon.
Sidmouth Town Council arranged the victory parade to welcome King and her horse Imperial Cavalier home.
King, among the oldest members of Team GB at 51, was wearing the silver medal she won as part of Team GB's equestrian eventing team at the London 2012 Games.
Stuart Hughes, chairman of the town council, described it as an "unprecedented event".
"It's the first time we've held this sort of event in the town, but the town and the council thought Mary King deserved a heroes welcome," he said.
'Freedom of the Town'
Speaking about her horse ahead of the victory parade, King said: "Let's hope he's a good boy. It will be quite exciting for him. Saying that he's got very used to clapping crowds in the last few weeks."
King rode Imperial Cavalier, followed closely by her family, friends and colleagues in an open top bus, through the town.
The route included the High Street, Fore Street, across the Esplanade and up Station Road to the Three Cornered Plot then into Kennaway House.
When King arrived at Kennaway House, Mr Hughes presented the Olympian with the honour "Freeman of the Town" - the first person not involved in local government to be given the honour.
"It is in recognition of her outstanding contribution to sport and local charity work in the community," Mr Hughes said.
King hopes to compete in the Olympic Games in 2016 in Rio but Imperial Cavalier, who is 15 years old, will be too old to take part.