Plymouth postbox plea for Olympians Daley and Meilutyte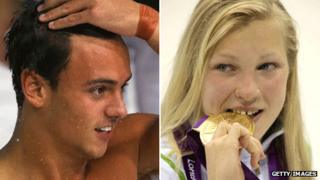 Councillors in Plymouth have called on Royal Mail to paint one postbox gold and another bronze in honour of two city-based Olympic athletes.
Royal Mail has been painting postboxes gold in the home towns of Team GB's gold medallists.
Diver Tom Daley took bronze in the 10m individual platform, and city-based 15-year-old Lithuanian Ruta Meilutyte won gold in the Games.
Royal Mail said it had to limit the programme because of its scale.
Both Tom Daley, 18 - who won bronze and also came fourth in the men's 10m synchro event with diving partner Pete Waterfield - and Ruta Meilutyte attend Plymouth College.
Meilutyte won gold for Lithuania in the women's 100m breaststroke.
Peter Smith, from Plymouth City Council, said he hoped Royal Mail would see "a bit of common sense" and reconsider its position.
Royal Mail said it "congratulates every single member of Team GB on their success at the Olympics and are proud to have painted more than 50 postboxes gold".
It added: "But, due to the scale of the programme, we are sorry but we do need to limit the programme to those athletes who have won a gold medal."