Olympic pupils at Plymouth College face highs and lows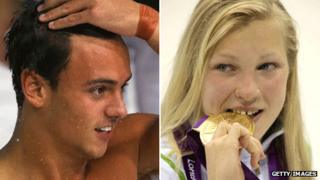 It was a day of highs and lows for Plymouth College as two of its students took the plunge at London 2012.
Its most famous pupil, Olympic diver Tom Daley, just missed out on a medal by coming fourth in the synchronised 10m platform with his partner Pete Waterfield.
But another pupil from the independent school lit up the Aquatics Centre at London 2012 with a stunning win in the women's 100m breaststroke .
Lithuanian Ruta Meilutyte, 15, who came to England three years ago, said she could not believe it after winning gold on Monday evening.
Speaking after her victory she said: "At the moment I can't speak too much but it means a lot to me and I am so proud."
Daley sent her a message on Twitter that read: "Well done!!!!! Awesome!!! Proud to go to the same school as you!!!!"
And remarkably Meilutyte and Daley make up just half of the school's Olympians at the 2012 Games.
They are joined in London by swimmers Jamila Lunkuse, 15, who will compete for Uganda and Jade Howard, 17, who is in the Zambian swimming team.
Pupils and teachers watched at the Devon school as Meilutyte won the gold.
Deputy head Sarah Dunn said: "We are almost in tears, it was such an achievement.
"We knew she had great potential when she arrived here in Plymouth three years ago. Not only is she a fantastic athlete, but she is also a great scholar.
"She has always demonstrated superb talent and the hunger and desire to succeed. We had every confidence in her.
"To achieve what she has at such a young age is incredible. She is a real credit and we are so proud of her."
Ms Dunn added that the swimmer had "a massive following here".
"But she's so modest. She's rather like Tom [Daley] - she downplays how good she is.
"What she's like in the pool - her focus, her determination - is what she is like in so many areas."
Fellow student and former head boy, Ed Hirst said: "It's unbelievable - she couldn't deserve it more.
"She's tried so hard and all the dedication she's put in - but I have to say I'm shocked.
"She was a slight outsider and coming in like that and stealing the gold was incredible - just so, so, so amazing.
"It's so inspiring for other pupils as well - someone to look up to and admire."
'Quite phenomenal'
Speaking to the BBC, Meilutyte's coach Jon Rudd said: "She's a great talent, but she's also an extremely vigilant and conscientious worker and when you get talent and work ethic, you've got the ideal kid.
"Everything about her is pretty much as we want it: her work in the pool, her work in the gym, her attention to detail, she's very conscientious about her nutrition and even how she rests."
The school specialises in training elite athletes and the three girls are part of its swimming programme that attracts top swimmers from around the world.
Ahead of the Games, Lunkuse said: "We have a pretty heavy schedule and are in the pool by 5.30am most mornings.
"We don't usually get back to the boarding house before 7pm when I have to do my homework."
Plymouth College headmaster Dr Simon Wormleighton said ahead of the Games: "To have four athletes from the same school competing in an Olympic Games is quite phenomenal.
"The fact they are representing different countries really reflects the international aspect of the school, which has pupils from 15 different nations on the swimming programme alone."
And fellow pupils at Plymouth will remain glued to the screens as Meilutyte and Howard take to the pool for the 100m freestyle on Wednesday.
Then Meilutyte will again be competing on Friday in the 50m freestyle while Daley will try for gold in the individual 10m platform from Friday 10 August.
Sarah Dunn said Daley would already be moving on from his coming fourth in the men's synchronised 10m platform.
She said: "He'd have been more disappointed than anybody else.
"But Tom will focus and move on to the individual.
"He still came fourth. We're very, very proud of that as well. He's a tremendous athlete."