Tom Daley's Olympic bid thrills Plymouth crowds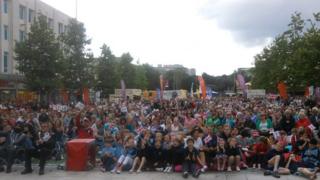 Part of Plymouth came to a stop this afternoon to watch Olympic "poster boy" Tom Daley's bid for an Olympic medal.
A sea of people - estimated at about 400 - crowded around the BBC Big Screen in the city centre to watch the diver and his partner Pete Waterfield in the synchronised 10m platform final.
At the front of the crowd, vociferously willing Daley on, were colleagues from Plymouth Diving Club.
Despite finishing fourth, his home city buzzed with excitement and pride.
Daley and Waterfield were in gold medal position until a disastrous fourth round dive.
'So agonising'
"Miss one dive and you're gone - it's the way the sport goes," Daley said afterwards.
"It started really well and we got personal bests on the first two dives, and the third dive was really good, but the fourth was not good enough.
"It's annoying but what can you do?
"The crowd have been amazing, I'm getting emotional thinking about it.
"It was all we dreamed of and to come fourth was so agonising after training so hard."
Adrenaline blamed
Daley's friend Brooke Graddon, who has also trained with him, said the crowd had really got behind him.
"They dropped out halfway through and were battling from then onwards," she told BBC News.
"The fourth dive should have been the simplest. I think it was the adrenaline - they went for it too much and they spinned more than they normally would.
"Tom will be heartbroken - he wanted that medal so much and I know this will make him fight even harder for an individual one."
Before the event she said she was so nervous, part of her did not want to watch him diving.
Natasha Mason, secretary of the Friends of Plymouth Diving, was at the screen with about 30 children from the diving club.
She said she wished Daley could have heard the support from the people at the big screen.
People in the city have followed Daley since his competitive debut in 2004, aged 10.
Even Plymouth City Council stopped its full council meeting at 15:00 BST to watch Daley represent his country. Party politics were put aside as the Labour council leader Tudor Evans joined forces with Conservative leader Vivien Pengelly to wave union jacks.
Councillor Michael Wright said: "Tom is an ambassador for Plymouth and we're bitterly disappointed that he didn't win a medal.
"Despite this he made the city proud and people will still back him in the next event."
Daley has been through a huge amount since making his Olympic debut in Beijing, winning a world title in 2009 before losing his father Rob to cancer in 2011.
The Plymouth athlete - who was born in 1994 and sometimes has to remind people "I'm a diver not a swimmer" - was first noted for his talent aged just seven.
He made his competitive debut in 2004 at the age of 10 and became the youngest ever under-18s champion on the 10m board at the British Championships the next year.
He took part in the Australian Youth Olympics in January 2007 after being given special dispensation to compete while still two years below the minimum age.
He then went on to make made his full Olympic debut in Beijing in 2008, before winning the World Championships' 10m title in 2009.
He also won the BBC Young Sports Personality of the Year awards in 2007, 2009 and 2010 - and has been immortalised in a waxwork in a diving pose by Madame Tussauds London.
The death of his father last year was a cruel blow for the diver.
Rob Daley had been Tom's constant companion in competitions around the world.
Speaking to children involved in the BBC's 2011 School Report project, he cited his "dearly missed" father as the most important person in his career.
He said: "He used to take me to all of my training sessions and competitions."
His mother, Debbie, and two brothers, Will and Ben, have continued to support him in his career.