Muse asked to run Teignbridge District Council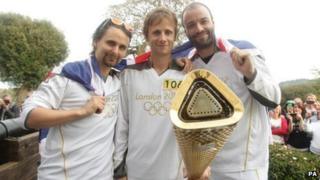 The rock band Muse have been invited to help run their Devon hometown's council for a day.
Teignbridge District Council Leader Jeremy Christophers said he met the trio, who come from Teignmouth, after they carried the Olympic torch in the area in May.
Mr Christophers said the scheme was in the planning stage but the "invitation had been well received" by the band.
Muse has not publicly commented on the offer.
Mr Christophers said: "We've got some arrangements to make between now and when it happens."
A council spokesman said it had not yet decided what the trio would do for the day.
Mr Christophers said: "The band's new album is centred around energy depletion on the planet and I'm really hopeful that we can do some work with younger people about this. I'm hugely excited by the prospect."
'Sitting at my desk'
Muse will release their new album The 2nd Law in September.
"We are completely in their hands, the offer's open to try and do something this side of the launch of their album, but if it doesn't happen then perhaps we can do something next year," he added.
He said the response from the band members had been "extremely positive".
"We would be delighted to see them in the offices at Teignbridge and sitting at my desk," he added.
In June, the band announced their new single Survival would be the official song for the London 2012 Olympic Games.
Thousands of people turned out to see the band carry the Olympic flame on 20 May.