Ilfracombe council approves Hirst pregnant woman statue plan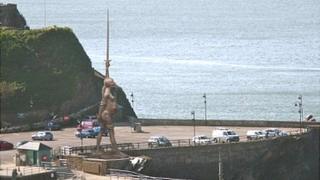 A Devon seaside town council has approved plans to erect a 65ft (20m) statue by Damien Hirst of a pregnant woman wielding a sword.
The artist has offered the statue, called Verity, to Ilfracombe in north Devon on a 20-year loan.
Ilfracombe Town Council said it had given its approval, but added it was one of several organisations involved in a consultation.
It said North Devon District Council now had to approve the plans.
If completely approved, the statue would be erected on the pier in the town harbour.
A planning application said the bronze-clad statue, carrying a sword and scales with a base of legal books, is a "modern allegory of truth and justice".
Members of Ilfracombe's planning committee voted eight to one for the project at a meeting on Monday evening which saw 30 members of the public attend.
Hirst, who has a restaurant in the town, has been unavailable for comment.