Devon severe flood warning stood down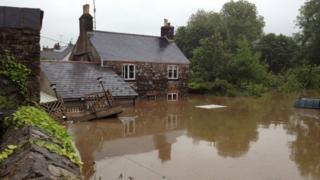 A severe flood warning in Devon, which signalled a "danger to life", has been lifted by the Environment Agency (EA) as recent torrential rain eased off.
The warning was put in place for the River Axe in Axminster on Saturday evening but was lifted on Sunday morning.
There remain 28 flood warnings and 31 flood alerts in place in the South West.
David Bunt from the EA said: "We're starting to look a little bit better."
The agency said a month's worth of rain - up to 80mm - fell on Friday and Saturday with the Rivers Yealm and Axe put on the highest flood warnings at times.
'Up to our necks'
Mr Bunt said: "Record amounts of rain in south and east Devon have caused river levels and surface water never seen before in places such as Yealmpton, Axminster, Sidmouth and Ottery St Mary.
"We did assist with a rescue of a number of people [in Axminster] and evacuated properties. There's no further risk to people because those at risk have now been evacuated or rescued.
"Where our flood defences have been in place they've stood up but where we have more extreme rainfall it causes us to look further again."
Water flooded Yealmbridge after the Yealm burst its banks.
Mia Leech, 14, said: "By the time we got half the stuff upstairs the water was already up to our necks and past our heads.
"My little brother was scared and I had a friend sleeping over and we were both just traumatised, we couldn't go downstairs."
In Yealmpton the river reached a high of 7.5ft (2.2m) which EA said was a "significant event" with about 40 properties affected.
Some residents were rescued from their homes by boat and Torr Bridge was temporarily closed after concerns it would collapse. It was later judged to be safe.
Villager Tony Stearn, 61, said: "Luckily we were within about six inches of the house actually getting flooded, but the water level was tremendously up. It's normally only about 18 inches deep at this time of year."
'Rapidly engulfed'
Ottery St Mary in east Devon was also affected with Otterton Mill, a 1,000-year-old attraction, flooded for the second time in four years.
Owner, Caroline Spiller, said: "Waters rapidly engulfed the site and entered all the buildings.
"This has come at the worst possible time for our business, at the start of our peak season."
Mark Simpson who owns the River Dart Country Park near Ashburton said none of those camping on the site were impacted but he remains concerned for the county's tourism industry.
He said: "Devon has some wonderful indoor attractions but if it continues through the school holidays it's going to be hard for attractions and tourist businesses to sway people that Devon is the place to come on holiday."
The Environment Agency has encouraged people to check its website, Twitter feed and Facebook pages, while its flood line service on 0845 9881188 can also provide advice.