Video campaign to boost Scilly visitor numbers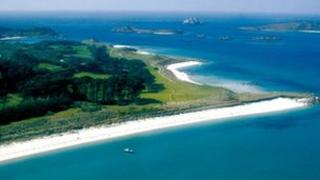 A series of 12 videos will be released on the internet as part of a campaign to reverse an 8% decline in visitors to the Isles of Scilly.
The films have been commissioned by Island Marketing after a successful £2.25m funding bid by the Isles of Scilly Local Action Group (IoS LAG).
Falmouth production company Smart Exposure said the videos will give an "eye-opening insight into the Islands".
Cameraman Callum Shone said he hopes the videos "will go viral".
Mr Shone, who grew up on the island of Tresco, said: "Very often when film crews come to Scilly, they head for the tried and tested locations but I hope my local knowledge will come through, drawing on my experiences exploring the islands."
'Quirky moments'
To help with the campaign, managing director at Smart Exposure, Simon Reid said they were "trying to get some quite quirky individual moments that people will talk about, tell their friends and share online".
Subjects covered in the 12 videos will include an overview of Scilly, individual videos on the five inhabited islands, films focusing on the islands' history, its wildlife, food and eating out, the numerous activities on offer for both locals and visitors and the transport links.
Alasdair Moore of Island Marketing said: "We see these videos as being absolutely critical in showing different aspects of island life to prospective visitors both nationally and internationally."
Mr Moore said the films would act as a "major element of the future marketing and promotion of the Islands".
IoS LAG, a community-led partnership successfully bid for £2.25m from the Rural Development Programme for England.