Billie Bainbridge dies after battle with brain stem cancer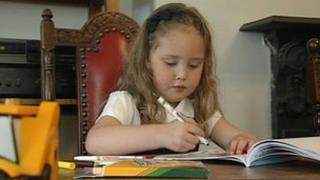 A five-year-old Devon girl who had inoperable brain stem cancer and went to the US for experimental treatment has died.
Billie Bainbridge, from Exeter, died "peacefully at home" on Friday, nearly a year after her diagnosis.
Her family said: "She was incredibly brave and never complained."
Billie's condition, in which a tumour grows on the brain stem which controls the body's vital functions, affects about 40 children a year in the UK.
She was diagnosed last June while her mother, Terri Bainbridge, who was brought up in Cornwall, was herself fighting breast cancer.
An early prognosis said that Billie was unlikely to survive for more than a year.
Radiotherapy in London shrank the tumour, but oncologists said nothing more could be done in the UK apart from steroid treatment to alleviate Billie's symptoms.
The family then decided to consider trials at a clinic in Houston, Texas, which saw her travel to the US.
A support group for her, the Billie Butterfly Fund, raised more than £100,000 for travel and treatment, which was expected to cost about £200,000.
Speaking of Billie's death, her family said it was a "dreadfully sad time for the whole family".
They said: "Her condition deteriorated rapidly after a brain scan on 3 May showed significant tumour growth.
"In the last week, she was having difficulty with breathing and was confined to bed. She died peacefully with parents Sam and Terri beside her and her family nearby.
"In the last year, Billie had to cope with so much. She was incredibly brave and never complained or asked why."