Rave on Dartmoor halted by police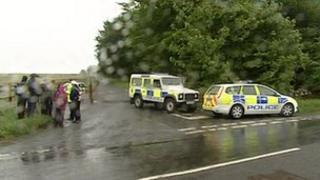 A suspected illegal rave involving hundreds of people has been stopped on Dartmoor, police have said.
Police said more than 1,200 people and up to 500 cars gathered at Bellever Woods, near Postbridge.
Devon and Cornwall Police said they were called to the site, owned by the Forestry Commission, at about 00:30 BST.
Police stopped the gathering and set up road bocks to prevent more people from attending.
Pony concerns
A Devon and Cornwall Police spokesman said: "The land is owned by the Forestry Commission and no permission has been sought or granted by them to hold this rave."
He added: "We're encouraging those there to leave, and we're certainly preventing any other people from attending."
Local farmers said they were concerned about some of their animals.
Writing on Twitter, Lowertown Farm said: "We've got ponies over at Bellever - hope they are OK."
Also posting on Twitter, the Dartmoor Pony Heritage Trust said: "Just to let everyone know that our ponies are safe and well after Dartmoor rave last night.
"We are in contact with the relevant authorities."