Swimming warning over algae at Plymouth's Hoe Foreshore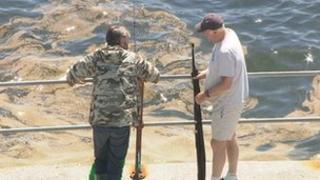 Swimmers have been warned not to go in the water in part of Devon following the development of an algal bloom.
Plymouth City Council said the bloom, containing 12 species of algae, had occurred on the Hoe Foreshore, within Plymouth's breakwater.
The Environment Agency said it was naturally-occurring but some strains could be harmful to marine life.
The Health Protection Agency said dogs should be kept out of the water if there was scum on it.
The council said there was also a possibility that scum or foam could get ashore on beaches and cause irritation to some people with sensitive skin.
'Not ideal'
It said: "We're taking a precautionary approach and are making people aware of a possible risk to health.
"We appreciate this is not an ideal situation over a bank holiday, but decided it would be better if people are aware that there is a potential problem."
The Environment Agency added algal blooms could sometimes deplete oxygen levels in the sea, making it difficult for fish and other animals to breathe.
It could also produce a toxin which could kill marine life.
It added that the bloom would disperse naturally, but it could concentrate in fish and therefore any caught in the Sound should not be eaten.
The city council said if anyone felt ill after being in the water they should contact their GP or NHS Direct.