Dartmouth ferry becomes Jubilee party venue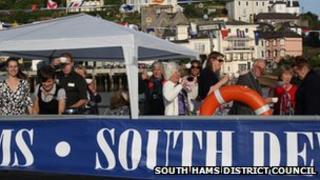 Two communities either side of a Devon river have joined together for a Jubilee Party on a boat half way across the water.
Kingswear and Dartmouth each sent about 20 people for the party on one of the three ferries that daily ply their trade across the River Dart.
The ferry was moored in middle of the Dart for an hour on Wednesday evening for the cream teas and entertainment.
The idea was conceived by local people "as a bit of fun".
Councillor Hilary Bastone, who helped organise the event, said: "We could not make up our minds which side of the river the event should be held, so we decided it would be a good idea to meet half way.
"It's almost a street party too because the ferry is an extension of the road."
'Important link'
The event was the first of its type on the ferries, which use a route that can trace its history back to the 14th Century.
Mr Bastone said: "The lower ferry is an important link for both of our communities and holding a street party will embody and enhance that friendship."
The ferry, which is owned by South Hams District Council, normally carries up to eight vehicles at a time across the river.
It was "dressed overall" with bunting for the invitees, including members of local choirs, the Women's Institute, and drama groups.
It was also checked by the Maritime and Coastguard Agency.
"It was only a week ago that we got the final clearance," said Mr Bastone. "It's been a trying time."
He added: "It is a wonderful gesture from the council to make the ferry available to honour the reign of Her Majesty.
"It's particularly poignant as she first met and fell in love with Prince Philip in Dartmouth."