Olympic torch: Mark Ormrod 'humbled' by relay role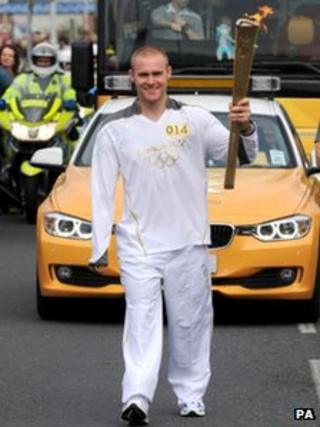 A former Royal Marine who lost an arm and both legs in a landmine blast in Afghanistan said carrying the Olympic torch was a "humbling experience".
Mark Ormrod, 28, was told by doctors he would never walk again after injuries sustained in 2007.
But now he can run with the help of specialist prosthetics and carried the torch in Plymouth.
The torch was lit at the city's new £46.5m leisure centre for day two of the 70-day relay around the UK.
Mr Ormrod, who now dedicates much of his time to charity work, said: "Humbled is the world I would use. Humbled at all the people that contacted me to say they had nominated me and then to get selected."
He compared carrying the Olympic torch with the completion of his 3,500-mile charity run across America two years ago.
Mr Ormrod, who now works for the Royal Marines Association, and a team of Royal Marines completed the eight-week coast-to-coast journey named the Gumpathon in aid of injured service personnel.
"It's on the same level," he said.
"Anything to do with representing my country is a really big thing for me.
"It's something I've always wanted to do and would love to continue doing.
"In fact, this probably ranks slightly higher than that and I am just proud to be a part of it."