Kingskerswell bypass: Galliford Try wins construction contract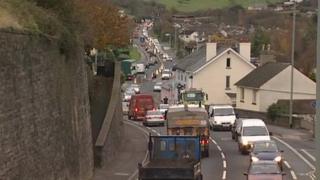 The long-awaited South Devon link road is to be constructed by the company which built the retractable roof over Wimbledon's centre court.
Galliford Try was awarded the contract for the £110m, 5.5km (3.4 mile) dual carriageway linking Torbay and Newton Abbot and bypassing Kingskerswell.
Construction work will start in the autumn and the road is due to be completed by December 2015.
Local people have campaigned for a bypass for more than 50 years.
John Hart, leader of Conservative-led Devon County Council, said it was a "key milestone" in the project which would bring "huge benefits" to the area.
'Economic boost'
The Department for Transport (DfT) is paying £76.4m towards the cost of the road, while Devon County Council and Torbay Council will contribute £33m and Teignbridge District Council a further £500,000.
Supporters have said the link road will help revitalise the economy of the area, creating an estimated 11,000 jobs - nearly 1,000 of which will be in tourism.
"We'll begin work shortly and we are looking forward to reaping the huge benefits that the link road will bring for the whole of South Devon - particularly the major boost it will bring for the economy and job creation," Mr Hart said.
The council's transport cabinet member, Councillor Stuart Hughes, said the major infrastructure project would also result in improved journey times, reduced congestion and better air quality.
Galliford Try said it intends to work with local suppliers, as well as employing local apprentices and graduate trainees.
Chief Executive Greg Fitzgerald said: "Throughout the duration of this scheme we will be keeping local people up-to-date as much as possible about progress of the works and hope they enjoy seeing the new link road take shape over the coming months."
Although the link road is expected to remove 95% of traffic away from Kingskerswell, opponents have claimed it will disrupt the ecology of the surrounding countryside.