Devon new town homes go on sale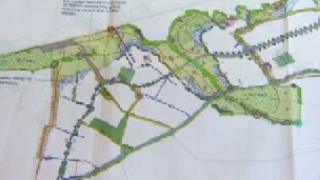 The first homes in a new town which is being created near Exeter in Devon have gone on sale.
The multi-million pound development at Cranbrook will have 2,900 homes when completed. It will also include two business parks, schools, a library and an energy plant.
In the first phase about 1,120 homes are being built, with about 300 of those earmarked for affordable housing.
Developer Wimpey Homes said it had received more than 1,000 enquiries.
Shared ownership
Sustainable transport links, which also include a dedicated bus route, are also a key element of the new community.
East Devon District Council had to change some of the arrangements to buy homes listed as affordable after it discovered that only one lender would offer mortgages under planned shared ownership schemes.
This was because of a designation which was in place to ensure the homes remained affordable in perpetuity, ideally for local people.
The council has applied to the Homes and Communities Agency for this status to be lifted and is awaiting the agency's decision.
Councillors asked housing officials if there was a risk that some of the homes could now be bought outright.
Officials said there was a risk, but added that the changes were a "pragmatic approach to mitigate the risk of unoccupied homes".