Glow-in-the-dark fish help combat pollution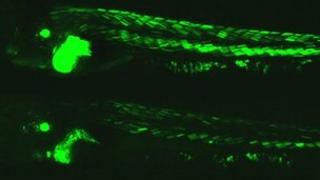 Scientists from the University of Exeter have created a breed of glow-in-the-dark fish to learn more about how pollution affects humans and animals.
Genetically modified zebrafish have enabled researchers to track the damage of foreign chemicals in the body.
Once exposed to these pollutants, the fish's affected organs or tissue glow a luminous green.
Chemicals in some industrial products and contraceptives have been linked to reproductive problems.
Many of these chemicals contain oestrogen and the scientists have engineered it so that the fish react to the chemical by producing this green fluorescence to help them identify where the impact is.
'Exciting development'
Scientists worldwide are now working to find better ways of screening and testing for these chemicals in the body, to target the health risks to humans and wildlife.
Professor Charles Tyler, who is leading the research together with Dr Tetsuhiro Kudoh, said: "What these fish allow us to do is monitor chemicals in the environment that copy some of the body's hormones called oestrogens.
"This is a very exciting development in the international effort to understand the impact of oestrogenic chemicals on the environment and human health.
"This zebrafish gives us a more comprehensive view than ever before of the potential effects of these hormone-disrupting chemicals on the body."
Previous University of Exeter research identified the potential for a major group of these chemicals to cause male fish to change gender.
Human exposure to the chemicals has been associated with decreases in sperm count and other health problems, including breast and testicular cancer, the university added.