Totnes twin turbines bid 'before summer'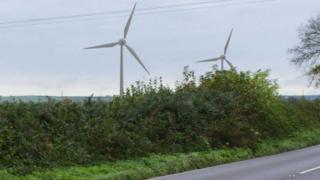 A planning application is being prepared for two "community" wind turbines in south Devon.
Five hundred Totnes people have bought shares in the turbines project at Luscombe Cross, south of the town.
The shareholders and turbine firm Infinergy will pay for about 20% of the £6.5m cost of the project.
Infinergy hopes to get an application to South Hams District Council "by the start of the summer" and start building in 2014.
'Way forward'
The scheme began in 2010 with the creation of the Totnes Renewable Energy Society (TRES) which offered local people shares in the project.
The remaining cost of the project will be sought from the financial market.
The 100m (328ft) turbines, with a combined capacity of 4.3 megawatts, will be the first of their type in the area.
Infinergy project manager Matt Russell said: "We are delighted with the results of noise and landscape surveys.
"Wind farms like this are the way forward because it is the community that is behind it."
No developer has yet succeeded in getting planning permission in the South Hams.
South Hams District Council said it would not comment on applications before they had been to a committee.
Earlier versions of this story incorrectly suggested the turbines would be placed in an Area of Outstanding Natural Beauty.