Devon offers pride and protection for soul singer Stone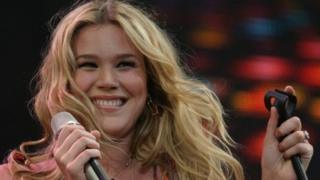 It has been 12 years since Joss Stone won a national talent competition which set her on the road to a career as an internationally successful soul singer.
Her friends and neighbours in the rural part of Devon where she grew up, and still lives, are protective of her privacy and it was their actions which alerted police to Kevin Liverpool and Junior Bradshaw.
The pair were were arrested after they were seen acting suspiciously in a Fiat Punto in Cullompton, several miles from the singer's home.
The court was told the vehicle contained weapons including a Samurai sword, a body bag and rope.
Both men have been convicted of plotting to rob and kill the singer following a trial at Exeter Crown Court.
After the failed attack, the 25-year-old fortified her country home with additional security, reassured her fans that she was "absolutely fine" and maintained her presence in the local community.
But since the incident her neighbours have become even more protective of her.
One of them, Jenny from Uffculme, who did not want to give her surname, said: "We don't see her around the village as often but everyone knows what she's doing and we watch with interest and it's good to see her doing so well.
"We are all certainly very proud to say she comes from the area."
Stone has remained in rural Devon despite a constant stream of success - by 17 she had released two albums, completed a worldwide tour with 97 dates and was being hailed by some as "the white Aretha Franklin".
At 19 she came eighth on The Times rich list of UK musicians under 30, moving up to 5th place in 2012 with a fortune said to be around £10m.
The landlord of a pub where Stone sometimes drinks wanted to remain anonymous but said the singer made "no fuss" when she once had to be turned away having failed to book a table for dinner.
He said that "short of putting her in the car park, there was nowhere for her, but she didn't seem to mind".
Another resident, Jennifer from Ashill, who declined to give her full name, said: "Everyone is interested in her and really supportive and wants her to do well.
"It's nice that she still comes back here. You see her walking her dogs so she obviously feels confident enough to potter about.
"People are still proud that she's still part of the community and are especially proud having watched her grow up."