Devon rower Liam Steevenson wants new Atlantic attempt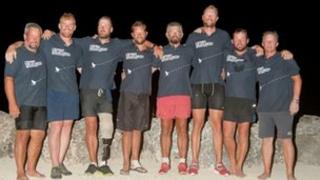 A Devon man who was part of a team which tried to beat a trans-Atlantic rowing record says he wants to have another go.
The Titan crew arrived in Barbados from the Canary Islands on 31 March after 34 days at sea.
They had hoped to beat the record of 32 days but blamed poor weather.
Crewman Liam Steevenson said on Facebook: "Thoughts are already on next year....any takers? I need a crew of 6...That record needs to be broken!"
Wine merchant Mr Steevenson was a member of the Titan crew who became the first eight-strong team to row the Atlantic and the first all-male eight across any ocean.
They were also fourth fastest going east to west on their route.
Their carbon fibre, titanium and aluminium boat was built in Totnes, Devon, and had crew members from New Zealand, France, US and Britain.
Mr Steevenson and other members of the crew are expected to return to the UK this weekend.