Sian Rees murder: John Doyle jailed for at least 16 years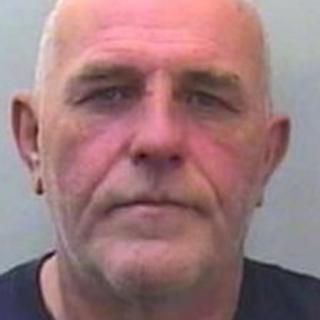 A man who murdered his partner hours after she underwent surgery for breast cancer has been jailed for life.
John Doyle, 54, strangled solicitor Sian Rees, 50, at their rural Devon home on 30 June 2011.
He crashed his van with her body inside as he tried to dispose of it in the hours after the murder, Exeter Crown Court heard.
The jury rejected Doyle's claims he acted in self-defence. He was told he must serve at least 16 years in prison.
Doyle crashed the van near Hatherleigh on 1 July.
Police officers who attended the crash site found Ms Rees's corpse between the front seats.
Doyle, of Merton Mill, Merton, Devon, claimed he killed his partner when she brandished a knife at him.
'Hysterical and screaming'
In the months before her death, Ms Rees had told colleagues at Peter Peter & Wright solicitors in Okehampton that she wanted to end the relationship, the court heard.
She was the sole breadwinner while he was meant to be renovating their home, a mill, as the start of a property empire that would allow her to stop working. But he was making slow progress.
Doyle was angry that Ms Rees had put on weight, the court heard. He had also discovered she had been exchanging emails with a man she met online.
The jury was told Ms Rees had been in hospital in Exeter undergoing surgery for breast cancer the day before she died.
When Doyle arrived to take her home he was both late and drunk, provoking a row between the couple.
Doyle told the court Ms Rees became "hysterical and screaming" and threatened him with a knife.
He admitted grabbing his partner of 14 years by the throat, to restrain her while he tried to disarm her, but claimed he did not intend to kill her.
Post-mortem tests showed Ms Rees, originally from Aberdare in south Wales, died about 12 hours before her body was found inside Doyle's Ford Fiesta van.
Defending Doyle, Michael Fitton QC said that his actions had not been premeditated but happened in the heat of an argument.
'Manipulative and dangerous'
The jury took 10 hours to unanimously dismiss Doyle's story.
The court also heard he had attacked his ex-wife in a similar way more than 20 years ago.
On New Year's Day in 1989, he throttled his then estranged wife at her home in Australia. She only escaped from him after kicking him and forcing him to loosen his grip.
He also attacked her boyfriend, the court heard.
Judge Graham Cottle said there was "no doubt" Doyle intended to murder Ms Rees and that he was planning to dispose of her body.
After the verdict, Det Insp Mike West, from Devon and Cornwall Police, said the case had "succeeded in protecting the public from a highly manipulative and dangerous individual".