Citybus withdrawing Plymouth school bus service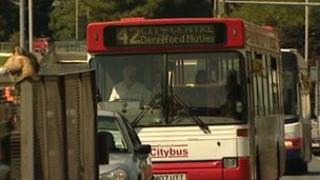 School buses are to be withdrawn in Plymouth later this year.
Citybus said it was having to stop the subsidised service because its funding from the city council has stopped as fuel costs have gone up.
The company has told the council there will be "adequate capacity" on its public service routes after the school transport finishes in July.
The council said while it was "disappointed", it understood the financial pressures Citybus was under.
"In previous years the council has paid a "top-up" to the bus company which allowed students to pay a lower fare, but this subsidy was withdrawn gradually between September 2003 and July 2011, as it was no longer financially sustainable," a council statement said.
Citybus said a total of 12 school services will be withdrawn and it has already advised schools in writing, to ensure head teachers, parents and pupils have advance warning.
Its rural grammar school buses to Callington, Tavistock and Kingsbridge will continue to operate.
Until November 2009, Citybus was owned and operated by the city council, but it was sold for £20m to the Go-Ahead Group.
Part of the purchase agreement was a commitment to provide a school service for three years.
But Peter Oliver, commercial manager for Citybus, said a "phased withdrawal programme" of school buses had begun before the council sold the company.
"The process began as far back as 2004 and each year as the funding was scaled back, the school network was being reduced accordingly," he told BBC News.
"In 2009, that programme paused because we said we would, but that pause has ended... and we are where we are."