Devon weather 'confusing' bees and plants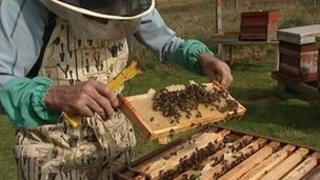 Recent weather changes have been adversely affecting bee colonies, plants and flowers in Devon, beekeepers and garden managers say.
Bees began laying eggs and making honey, and plants flowered earlier than expected because of recent hot weather.
Cold weather afterwards then "confused" them, staff at the National Trust's Killerton House said.
Temperatures reached 21C (70F) by 26 March, before dropping to about 12C (54F) by the start of April.
Queen bees were laying about 1,500 eggs a day when the temperatures were high, before the laying rate greatly decreased when conditions became colder, the Exeter Beekeepers' Association said.
Geoff Arney, of the association, added: "At this time of year, you wouldn't usually have a box for honey on [a hive].
"Last week, they were going mad. This week, there's hardly a bee flying."
Kate Tuke, head gardener at the National Trust's Killerton House, near Exeter, said it had been "worrying what's going on and how confused the plants are".
She said: "We don't seem to have any stability in the season at the moment.
"The magnolias came out early, lost their petals in frost and are now trying to flower again."