Surfing museum opens new display home in Braunton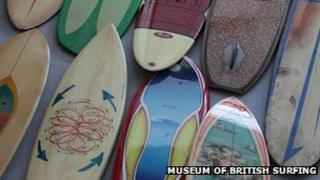 A museum dedicated to surfing has opened its new permanent display space to the public in north Devon.
The Museum of British Surfing in Braunton features surfboards and memorabilia tracing more than 200 years of national involvement with the sport.
It has a collection of more than 200 boards, the oldest of which dated back to 1920, managers said.
About a quarter of the board collection would be on display at any time, they added.
The museum was started in 2003 and ran successful touring exhibitions around the UK.
It based itself in Braunton in 2009, beginning work on creating a permanent home for displays and its collection.
Its first exhibition - The Art of Surf - features displays looking at 200 years of art in surfing, from the sketches of early explorers, through to works by contemporary British surfing artists, founder Peter Robinson said.