Dartmoor prison inmates 'safer' say inspectors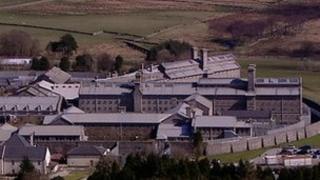 Prison inspectors have said Dartmoor jail has improved at keeping its prisoners safe.
HM Inspectorate of Prisons (HMIP) has severely criticised the category C prison in recent years.
It said that after an inspection in March 2010 that the prison had gone backwards and was grappling with poor staff attitudes and culture.
HMIP said the latest inspection in December 2011 was "more encouraging" but "significant challenges remained".
The report said the prison was "much safer".
It said: "The prison was proactive and reasonably effective in addressing the issue of violence and the number of violent or anti-social incidents, as well as use of force, was reasonably low.
"Opportunities for bullying did, however, remain and we were not assured that every incident was dealt with.
"This was not helped by indifferent staff supervision on the wings."
The report also found some cells to be damp and the buildings were in a "shabby" condition.
Nick Hardwick, Chief Inspector of Prisons, said: "The challenges faced by this establishment remain.
"Addressing some quite difficult environmental problems and confronting longstanding and powerful cultures and perceptions will take considerable and persistent management effort.
"We have recorded progress but in almost every area there was more to do, indeed quite considerably so.
"There were signs, however, that sustained and more embedded improvement was now within reach of the establishment."
Michael Spurr, chief executive officer of the National Offender Management Service (NOMS), said: "I am pleased that the chief inspector acknowledges that demonstrable improvement has been achieved at Dartmoor and that the prison is now much safer and respectful.
"The governor and his staff are working to further improve the prison, particularly the provision of purposeful activity and the inspectorate's recommendations will be used to support this process."