Plymouth council apologises over husband's grave work letter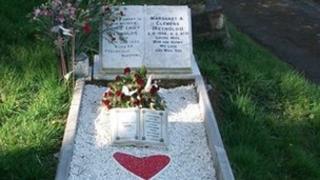 A man told in a council letter to remove his own stonework and gravel from his wife's grave has received an apology from the authority's leader.
Chris Clemens said he was given verbal permission for the memorial at Weston Mill by a Plymouth council employee.
But a letter from the council said it should have been installed by a stonemason for safety reasons.
Council leader Vivien Pengelly said: "I don't think we've gone about in the right way."
Mr Clemens said he estimated the work on the grave would have cost about £2,000, so he decided to do it himself.
He said that he had spoken to a council employee at the graveyard about the plot for his wife Margaret who died aged 65 in February 2011, before putting in his own gravel, surrounded by kerbstones.
He said: "There seems to be no stipulation on their website or anywhere else that it must be installed by a stonemason, but that's what they are saying now.
"I was very angry and distressed.
"We were under the impression we had been given approval."
Ms Pengelly said she had asked for an explanation from council officers.
She said: "I would like to apologise.
"Someone should have met with him to discuss it first.
"People need to be contacted properly in a way that does not cause stress."
She added: "Graves have to be made safe and we will ask permission from him to go in with a registered stonemason to check that everything is safe.
"If it isn't, in consultation, we will rectify what we have to.
"It is really important stones are put in safely so they don't fall on anyone."