Christian MPs take stand on divine healing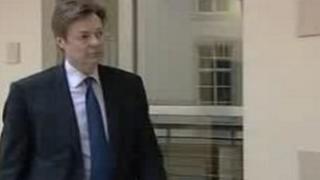 A Devon MP and two other MPs are trying to overturn a ban on advertising claims that "God can heal".
They want the Advertising Standards Authority (ASA) to produce "indisputable scientific evidence" to say that prayer does not work.
They wrote a letter on behalf of the Christians in Parliament (CIP) group.
It came after the ASA banned a Christian group from claiming on its website and in leaflets that God can heal illnesses.
It said a leaflet available to download from the group's website said: "Need Healing? God can heal today!"
The ASA saidit had concluded that the adverts by Healing on the Streets (HOTS) - Bath, were misleading.
'Sincere group'
HOTS, based in Bradford-on-Avon, Wiltshire, said it was disappointed with the decision and would appeal.
Mr Streeter, Conservative MP for South West Devon and chairman of CIP, wrote an open letter to the ASA along with Gavin Shuker, Labour MP for Luton South, and Tim Farron, Liberal Democrat MP for Westmorland and Lonsdale.
In the letter to the ASA they said they would "be the first to accept that prayed for people do not always get healed, but sometimes they do".
"That is all this sincere group of Christians in Bath are claiming," the MPs said.
Mr Streeter also said in the letter: "You might be interested to know that I (Gary Streeter) received divine healing myself at a church meeting in 1983 on my right hand, which was in pain for many years.
"After prayer at that meeting, my hand was immediately free from pain and has been ever since."