Cranbrook: Plans for £4m railway station submitted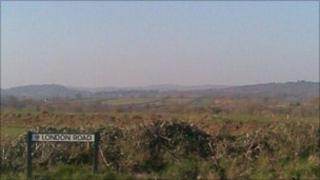 Plans for a railway station at the new town of Cranbrook in east Devon have been submitted.
Outline permission was granted in 2010 and the station layout was approved by Devon County Council last March.
A single-platform station will serve the 3,000 homes planned, with the potential for a second track and platform.
Sustainable transport links, which also include a dedicated bus route, are a key element of the new community.
It will be within "reasonable" walking and cycling distance for residents, with secure, sheltered cycle parking provided at the station, together with taxi facilities and a dedicated bus loop,
Stuart Hughes, the Conservative-led council's cabinet member responsible for transportation, said the station would serve Cranbrook, Skypark and Exeter Science Park.
Providing alternative forms of transport would help to reduce people's reliance on the car for travelling to work and school, he added.
Schools, a library and an energy plant are also planned for Cranbrook.
If the planning application is approved, work on the railway station could start next spring.