Princess Anne attends Capt Scott Plymouth memorial ceremony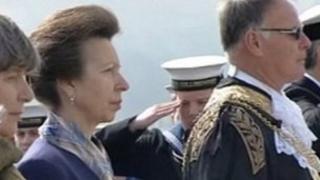 A special ceremony has been held to mark the centenary of Capt Robert Falcon Scott's ill-fated Terra Nova expedition to the South Pole.
The Princess Royal attended the National Scott Memorial rededication in Scott's home town of Plymouth.
Descendants of those on the expedition were also at the ceremony, including Scott's granddaughter Nicola Starks.
The memorial, which features bronze portraits of Capt Scott and the team, was unveiled in 1925.
A passage from Scott's final diary entry is laid out on the ground around the monument.
Capt Scott, Dr Edward Wilson, Capt Lawrence Oates, Lt Henry Bowers and Petty Officer Edgar Evans died on the ice after running out of food while returning from a failed attempt to be the first to reach the geographic South Pole.
School musical
The ceremony has been organised by Plymouth University, the Plymouth Scott 100 Committee, the Royal Navy, and Mount Wise Devon Ltd and the rededication service was conducted by the Bishop of Plymouth, the Rt Revd John Ford.
Capt Scott was born and educated in Plymouth and Dr David Wilson, co-ordinator of the national Scott 100 events, said the rededication of the memorial was a testament to his lasting legacy.
"The Mount Wise national monument to Capt Scott and the pole party has honoured one of Plymouth's greatest sons for many years and reflects the remarkable courage and heroism with which they met their end a century ago," Dr Wilson said.
Led by Scott, the Terra Nova expedition set off in 1910 to the South Pole and reached its destination on 17 January 1912 to find that Roald Amundsen's Norwegian expedition had made it there first.
Tragedy struck, however, when they ran out of food on their their return journey and they perished in a blizzard, on or about 29th March.