Budget 2012: Warning over more fuel protests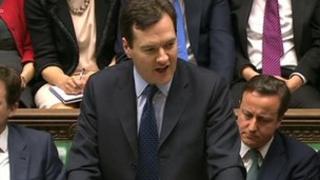 One of the men behind fuel protests that nearly brought the UK to a halt in 2000 is warning there could be a repeat this autumn.
Chancellor George Osborne said in the Budget the planned 3p increase on a litre of fuel would go ahead in August.
Devon farmer Richard Haddock said unless the government dropped the rise there could be more protests.
The August rise would mean a typical 50-litre petrol refill will cost £1.50 more.
Motorists had wanted Mr Osborne to defer the planned August fuel duty rise.
'Not a luxury'
Fuel duty already costs about 60p for every litre of petrol which now averages nearly 140p a litre.
But Mr Osborne said there would be no change to existing fuel duty plans.
He said vehicle excise duty would rise by the rate of inflation, although it would be frozen for hauliers.
Mr Haddock, who was among a number of farmers and hauliers leading the protests in 2000, said fuel was a "necessity not a luxury" in a mainly rural county such as Devon.
He warned protests could start again "if nothing happens by August".
"We could be back seeing people blockading. That's the serious worry I have," he said.
"We don't want to damage our country but it's now up to us and our MPs to tell the government we need help here.
"Everyone is affected because everything goes by road in the West Country.
"We are seriously suffering and it's crippling the South West.
"We have until the beginning of August. After August and they ignore us then they get what's coming."
'No allowance'
AA president Edmund King said: "At a time of record prices at the pumps the August increase in duty is a budget blow-out which will force drivers off the road and could bring a summer of discontent for many.
"We have heard much about tax allowances but the increase in fuel duty makes no allowance for car-dependent, rural and disabled drivers."
In last year's BudgetMr Osborne announced a 1p per litre cut in fuel dutyand cancelled the fuel duty escalator that added an extra penny on top of inflation every year.
He alsosaid in his 2011 Autumn Statementthat a rise in fuel duty of 3p a litre planned for January 2012 would be cancelled and the further increase of about 5p in August 2012 would be reduced to 3p.