Totnes cancer conference venue withdrawn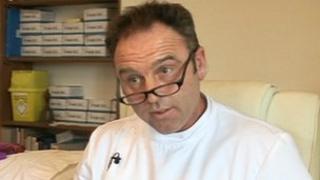 A conference featuring a former doctor who has claimed cancer can be treated using baking soda has been barred from using a council's meeting hall.
The event, organised by the Arcturus Clinic, was scheduled to take place this weekend in Totnes.
Italian oncologist Tullio Simoncini, who says he was struck off for using sodium bicarbonate in place of chemotherapy, was due to attend.
Totnes Town Council withdrew permission for the Civic Hall to be used.
Trading standards is investigating the Totnes-based clinic and the conference after concerns raised by local MP Dr Sarah Wollaston.
Private venue
Totnes mayor Judy Westacott said all councillors had been e-mailed for their views after trading standards officers had asked for the booking to be cancelled.
The majority of councillors wanted the Saturday conference cancelled and the organisers were offered their money back.
She said: "It's regrettable to cancel any booking, but in the circumstances we took the advice of the trading standards."
Arcturus is run by Dr Stephen Hopwood, a former GP who now describes himself as a "holistic physician".
He said he was disappointed at the town council's decision.
He said: "Trading standards said I was in possible breach of regulations and I was asked to change a couple of things on my website.
"I was given seven days and I did it in seven hours, but as far as I know nobody's bothered to check it."
Dr Hopwood said if Dr Simoncini's "unsubstantiated" claims were the main stumbling block, he would ask him to withdraw and not attend the conference.
He added: "He's just one of 10 speakers, so I'm fine with that, but I haven't been given that opportunity."
If this was enough to satisfy trading standards, another private venue was available to host the conference, he added.
A Devon County Council spokesperson said trading standards had no further comment to make.
It is the body which enforces the Cancer Act and the Consumer Protection From Unfair Trading Regulations 2008, to protect vulnerable people from false and misleading advertising.