Devonport incinerator challenged by opponents PlymWIN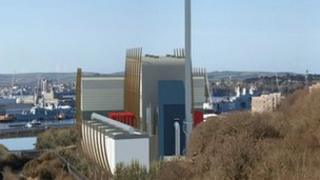 Residents who have been fighting plans to build an incinerator in Devon are to seek a judicial review.
Planning permission for the waste-to-energy plant at Devonport North Yard in Plymouth was granted last year and building work is due to start soon.
The plant will burn 250,000 tonnes of waste a year and some residents are worried about health risks.
A group called PlymWIN will argue the city council's decision to grant planning permission was "unlawful".
MVV Devonport Ltd, the German-based company awarded the incinerator contract, said the plant would be 62m (200ft) from the nearest house and earlier this month the Environment Agency granted an environmental permit stating it would not "significantly" pollute the environment or harm human health.
PlymWIN, which is affiliated with the anti-incinerator campaign group Incineration Is Wrong (IIW), said it had started the judicial review process.
The group claims the permission breaches the EU Habitats Directive because it did not carry out the appropriate assessment for a project that could significantly affect a European site of importance.
It also says the council adopted an "unlawful approach" by proposing ash left at the bottom of the incinerator would be transported to Whitecleave Quarry in Buckfastleigh rather than recycled.
PlymWIN spokeswoman Lynne Hayden said: "Our message to the people of Plymouth is the fight against this incinerator is not over."
The pressure group will be asking the public for donations towards the legal costs which will be required to take the case forward in the courts.
Plymouth City Council confirmed a letter had been received from PlymWIN and its contents were "being considered".