Exeter Cathedral: How do you move 70,000 archives?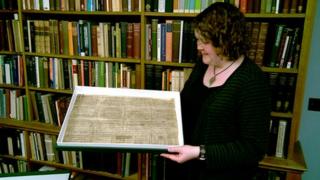 Exeter Cathedral is getting ready to open a new centre to keep all its archives in one place. But how do you move thousands of documents, some of which date back to 1050?
"We've got 70,000 books, documents and records, although it's more than that figure when you put the archives together," Canon librarian Ann Barwood said.
"They were in different locations - above the refectory, the library, one collection up at the university and then the other collection in the west wing of the palace."
The cathedral has invested £1.5m in refurbishing the West Wing of the Bishop's Palace to store its archives and run workshops, but Ms Barwood said the money was "neither here nor there" when it came to preserving the cathedral's history.
"It was important that we could preserve them fully and properly, otherwise they may as well have gone into the skip."
But where do you begin?
"The team have done most of the moving themselves by hand. We bought some boxes and a number are in their own box so it was a case of moving them - but not in the rain," Ms Barwood said.
"Last summer it took a month to box everything up in the library and bring it down from the first to the ground floor.
"We still have to re-shelve properly, that's the physical bit, and classification to make sure we can find things and make them accessible."
According to Ms Barwood, looking after ancient documents is a scientific business.
"Temperature, humidity, everything is established and maintained by electrical equipment which is monitored on a daily basis, and if something goes wrong a bell will ring."
The archivists will keep the room at a temperature between 16C and 19C, and aim for a certain level of humidity, figures which meet a British regulation established by archivists, for archivists.
It might sound pernickety but when you are in charge of documents including the cathedral's foundation charter you do your best to get it right.
'A little bit grubby'
Archivist Ellie Jones said: "The charter is in Latin, there are various abbreviations, but you can see in places they've highlighted the key phrases like King Edward.
"It's on parchment, it's a little bit grubby and you can see signs where it's been folded and unfolded, but we keep it flat now to minimise handling and it's just amazing.
"It's survived this long. I think we've done everything we can now to secure it for another 1,000 years."
The collection officially started in 1072 when the first bishop of Exeter, Bishop Leofric, died and bequeathed 70 books and it continues to grow.
Ms Barwood said: "Some have been investments, some have been bequests, there are some works that we have accessed ourselves with money in order to make sure we have a complete set.
"The most recent book we've acquired is Crockford's 2012 to 2013 and its a register of the clergy - a who's who of the Church of England."
Among the collection is a book written for Bishop Grandison, dating back to the 14th Century, which includes a handwritten note as well as a collection of Anglo-Saxon poetry.
"There's quite a number of remains of Anglo-Saxon still existing, but most of it is prose so books of literature are very rare, there are only four, and the Exeter books is probably the oldest of them," librarian Peter Thomas said.
Given the fragility of the documents, you might think the archivists would want to keep them locked away.
But Mr Thomas said: "There is no point at all in having a collection of wonderful items if they can never be seen by anybody, there is a balance to be struck and all we can do is observe best practice.
"Most scholars will know how to handle a manuscript and if they don't we make sure they do before they get their hands on it."
It is not just scholars who can see the artefacts, £750,000 from the Heritage Lottery Fund will be used to support outreach work including letting children and family history enthusiasts access the documents.
"It's about making the cathedral alive for people, the stories behind the stones, the stained glass window, the people who developed the cathedral," Ms Barwood said.
"We are on a journey, we've hit the 21st Century but now we can see what happened in the 12th and 13th and how we have come to be who we are today."