Devon based team half way in Atlantic record attempt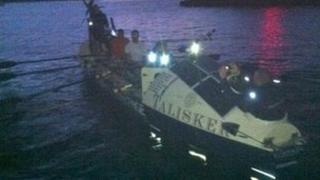 A Devon-based team attempting to beat the rowing record across the Atlantic is more than half way across the ocean.
The eight crew of Titan have just over 1,000 miles to go on their row from Gran Canaria to the Bahamas.
Organisers, Totnes-based Woodvale, say they could still beat the record of 32 days if they get some favourable weather.
In order to beat the record they must arrive in the Bahamas by 07:00 GMT on 29 March.
The carbon fibre, titanium and aluminium boat built at Totnes, has a crew from New Zealand, France, America and Britain.
Their progress can bemonitored on their website.
Woodvale spokeswoman Gemma Campbell said: "They have found it frustrating because the weather has not been with them.
"Hopefully they will pick up some favourable currents off Barbados."
The boat, which weighs just 200kg (440lb) unladen, is being rowed by four men at a time on four-hour shifts at night and one-hour shifts during the day.
There are four berths, one at either end and two "coffin beds" under the deck, to give the boat the best weight distribution.
The Ocean Rowing Societylists the Sara G as making the record making rowof just over 32 days in 2011.