Devon councils charging for disabled parking badges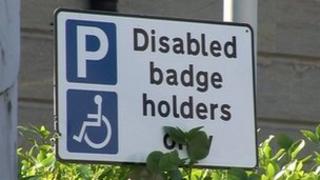 Disabled drivers in Devon's three main council areas are to be charged for their blue badges for parking.
Conservative-led Devon County Council and Torbay Council are to charge £10 for people to renew badges every three years from May.
Plymouth City Council, which is also Conservative-run, said it was to charge £4.95 every three years.
The councils said government changes to the scheme meant increased administration costs.
The blue badge scheme, which was introduced in the early 1970s, operates throughout the UK.
'Reasonable charge'
Badge fraud is estimated to cost the UK £46m a year.
The government measures are to crack down on abuse of the system.
As part of the measures, which came into force in January, the method to determine people's eligibility is being improved.
New badges with more security features have also been introduced.
The Department for Transport said it hoped the redesign would make badges harder to forge or alter.
However, the measures mean increased costs to administer the system.
Devon County Council said it would cost about £334,000 a year to administer.
Council officers said £10 for a three-year pass was still good value for money.
Rob Parkhouse, head of business strategy and support, said: "We've done the calculations of the increased costs to the council.
"I'm confident that the charge is a reasonable cost to cover the increase in administration costs."
Plymouth City Council said its fee only covered the cost to the council of the badge being issued and it made no profit from it.