Shirley Chaplin and Nadia Eweida take cross fight to Europe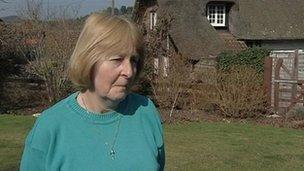 A former nurse and a former British Airways worker are continuing their fight for the right to wear a cross.
Shirley Chaplin, 56, from Exeter, and Nadia Eweida, 59, of Twickenham, south-west London, have lodged their case at the European Court of Human Rights.
The Royal Devon and Exeter Foundation NHS Trust said the necklace Mrs Chaplin's cross was on breached health and safety guidelines.
British Airways suspended Miss Eweida for breaching its uniform code.
Both women lost their discrimination cases in 2010.
Mrs Chaplin told BBC News she did not realise how strong her faith was to her until it was questioned.
"Then it was a case of my job or my faith - and I chose my faith," she said.
The hospital previously said Mrs Chaplin been offered several alternative ways to wear her cross, but had chosen not to accept them.
"They wanted me to hide my cross and chain, which to me is akin to denying my faith," Mrs Chaplin said.
Although the government is preparing to fight the women's case, Communities Secretary Eric Pickles said individuals should be allowed to wear discreet religious symbols.
"Providing any object doesn't actually get in the way of doing the job, a discreet display of someone's religion is something we should allow," he said in the Commons.
The case has been lodged with the European court and is expected to proceed later this year.
Related Internet Links
The BBC is not responsible for the content of external sites.