Apostleship of the Sea charity helps stranded Oak crew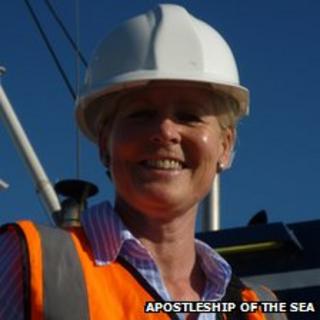 Volunteers from a church seafaring charity are helping the crew of a foreign cargo ship which has been stopped from leaving harbour in Devon.
The Bahamian-registered cargo ship Oak was detained by the Admiralty Marshall on Sunday following a civil claim against the owners of the vessel.
The crew, from the Philippines, Indonesia and Russia, claim they have not been paid for two months.
The Apostleship of the Sea has provided clothes and mobile phone top-ups.
Cargo sale
Chaplain Ann Donelly said: "Not being paid for two months has terrible consequences for the families of the crew.
"For example, one of the them has six children and a wife to support back home in Indonesia."
On previous visits to Teignmouth, the crew of the Oak has used the facilities at the Stella Maris seafarers' centre in the port.
According to the Ministry of Justice, the Admiralty Court can arrest vessels and cargoes and sell them within the jurisdiction of England and Wales.