Exmouth College pupils get We Bought a Zoo story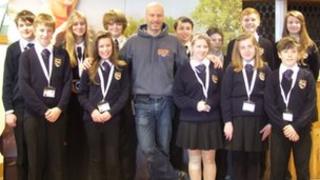 Pupils at a Devon school have interviewed journalist-turned zoo keeper Ben Mee, whose story inspired a Hollywood film.
The 12 Exmouth College year nine pupils spoke to Mr Mee about We Bought a Zoo forBBC News School Report.
The film, starring Matt Damon, is about the Mee family's 2006 purchase of Dartmoor Zoo.
The results of the pupils' filming for the project will be on the school's website.
Mr Mee quit his job as a newspaper journalist to run the zoo.
"It was a really successful day. They are really great kids and very enthusiastic.
"I loved it because I was a journalist myself," he said.
The pupils recorded interviews with Mr Mee and staff at the zoo, including the education officer Amy Collie and meat supplier Andrew Goatman.
They also recorded their own news bulletin at the zoo.
'Bright future'
Mr Mee, who wrote a book which inspired the film, said: "They were a bit nervous at first but by the end of the day they had come on a lot.
"I would say at least two of them have a bright future in journalism."
The results of the interviews will be shown on the school's website, which will be linked to the BBC School Report website.
English and media studies teacher Nathan Wright said: "Last year when I was training to teach the zoo had an open evening for prospective teachers.
"It was aimed at bridging gaps between schools and the zoo.
"It was something I remembered and I knew the film was coming out, so I suggested the zoo as a subject for the school report. It sort of fell into my lap."
He said the students enjoyed the project.
"It could have not gone any better - they were a credit to the school," he said.
'Just fantastic'
The film follows the story of the Surrey family's purchase of the zoo "because it was there".
Mr Mee said: "If we hadn't bought it, it would have closed and I could see that was going to be a disaster."
It now has 200 animals and according to Mr Mee is benefiting from the publicity surrounding the film with more visitors.
He said: "You never get used the fact that you can be doing something fairly mundane like pulling weeds or pushing a wheelbarrow and you get a call saying 'I've got two zebras. Do you fancy having two zebras?'.
"It's just fantastic. I love that."
BBC News School Report gives 11-16 year-old students in the UK the chance to make their own news reports for a real audience.
Using lesson plans and materials from this website, and with support from BBC staff and partners, teachers help students develop their journalistic skills to become School Reporters.