London 2012: Tom Daley celebrates A-level success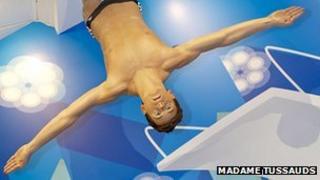 Olympic diver Tom Daley is celebrating exam success after achieving A grades in his A-level modules.
The diving champion, 17, from Plymouth, tweeted his results, earlier.
Daley, who is hoping to win gold at the 2012 Olympics, said "I can't believe it, I'm so happy", after getting As in maths and Spanish modules.
His coach Alexei Evangulov, recently criticised him for prioritising media work over his training, but Daley denied it was a problem.
'Remarkable young man'
The results of the modules will go towards the final A-level grades later this year, said Plymouth College.
Deputy head Sarah Dunn said: "The excellent A grades that Tom has achieved in his AS and A2 Maths and Spanish units demonstrates that he is well on his way to an impressive set of final A-level results.
"He is a remarkable young man who is clearly able to juggle the complexities of being a top sportsman alongside a rigorous academic programme."
The diver enrolled at the Plymouth public school in 2009, when he was 15, after claims of bullying at his former state school.
At the time, Plymouth College said it had agreed a "substantial scholarship" for him.
Ms Dunn said: "I am delighted that as a school we are able to offer Tom and our other elite athletes a flexible, personalized curriculum and a supportive mentoring system, enabling them to be successful both in the classroom as well as in the sporting arena."
His exam results come not long after a waxwork of him was unveiled at Madame Tussauds.
His effigy in the Sport Zone of the central London attraction was revealed at the end of February.
It is in a mid-dive pose, suspended about 4m (13ft) above the floor.
The figure is alongside other sports stars, including David Beckham and Mohammed Ali.