Nesting site cameras to protect Devon's birds of prey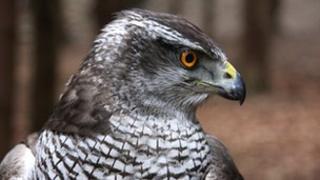 Cameras are to be installed at a number of nesting sites in Devon in an attempt to protect rare birds.
The hi-tech motion-sensitive cameras will operate 24 hours a day at a number of sites across the county.
The move follows a spate of poisonings last year in which goshawks, peregrine falcons and a buzzard were killed.
Operation Wilderness is a joint enterprise between the RSPB and Devon and Cornwall Police force's wildlife unit.
The cameras will be placed where there are "nest sites considered vulnerable to persecution or disturbance" from people trying to kill the birds or steal their eggs.
Four goshawks - about 20% of the species population in Devon - were found dead in woodland near Exeter along with a buzzard. They had been deliberately poisoned with a banned pesticide.
Three peregrine falcons were also found poisoned in two separate incidents just weeks apart - two in Cornwall and one near Buckfastleigh in Devon.
'Persistent threat'
RSPB spokesman Tony Whitehead said: "Crimes against wild birds continues to be a problem.
"We remain particularly concerned about the spate of bird of prey poisonings last year and persistent threat from a small but obsessive community of egg collectors."
Last month the charity said it believed pigeon fanciers might be poisoning birds, including peregrine falcons, because they prey on pigeons returning to their lofts.
The cameras in Devon have been paid for by the Devon Bird Watching and Preservation Society.
Operation Wilderness is being led by PC Josh Marshall, wildlife crime officer with Devon and Cornwall Police.
"We hope they will give us sufficient evidence to assist with any prosecution," he said.
Anyone found guilty of an offence against birds of prey, which are protected under the Wildlife and Countryside Act, can be fined up to £5,000 or jailed.