Devonport dockyard incinerator building work to start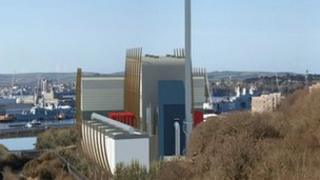 Building work is due to start on a waste incinerator in Plymouth after environment chiefs granted a permit.
The Environment Agency (EA) said the plant at North Yard, Devonport, would not "significantly" pollute the environment or harm human health.
Planning permission was granted in December 2011, but the EA's environmental permit was vital before the plant could be built.
German-owned MVV Environment said work would start "shortly".
'Strict conditions'
The EA said it had used "the most up-to-date scientific evidence" and specialist advice before granting the permit.
It said on its website: "The permit will ensure that a high level of protection will be provided to human health and the environment when the facility becomes operational."
The EA said it had consulted with the Health Protection Agency, local primary care trust and Natural England, as well as people living in the area of the proposed incinerator.
Chris James, of the EA, said: "The permit sets strict conditions to protect the local community and the environment.
"These cover the way the facility is operated and the monitoring of emissions. When built we will enforce these conditions."
Paul Carey, managing director of MVV Environment, said he was pleased with the decision.
He said: "We are now able to move forward with this important project for south west Devon.
Deliveries every day
"We intend to start preparatory work on site shortly and will keep local residents informed."
The plant, which will burn about 250,000 tonnes of waste a year, is about 200ft (62m) from the nearest houses.
South West Devon Waste Partnership, a group representing Plymouth City Council, Devon County Council and Torbay Council,signed a 25-year contract with MVV Environment in March 2011.
MVV has said there will be 132 deliveries to the plant every day between 08:00 and 19:00.