Marley Head travellers face removal by force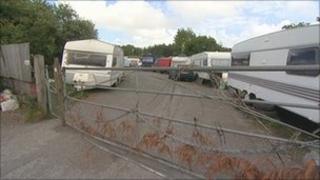 Travellers illegally parked at a Devon site face a High Court action to forcibly remove them.
Dartmoor National Park, the planning authority for the site at Marley Head in South Brent, is applying for an injunction at the High Court in Bristol on 19 April.
The privately-owned land has been occupied since January 2007.
There were 29 unauthorised traveller encampments - housing 203 adults and 70 children - in Devon in 2010/11.
A planning enforcement notice was served in June 2010 requiring the Marley Head occupiers to leave by 6 May 2011, but that was not complied with. There are currently about 30 people living there.
The park authority said members had considered "all potential options" before agreeing to apply for a High Court injunction "to secure a cessation of the breach of planning control".
It said it would be working closely with South Hams District Council, which has responsibility for housing travellers, and Devon County Council which has responsibility for welfare of travellers.
The Devon Gypsy and Traveller Liaison Service saidin a report last yearthat the "high level" of unauthorised encampments in Devon "once again demonstrates the shortage of sites".
A spokesman for South Hams District Council said: "The council does not have any authorised grouped gypsy and traveller sites, apart from a limited number of pitches for individual families."