Call for Devon Tarka Line stations to be closed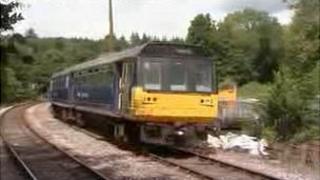 A Devon rail campaign group is calling for the majority of stations on the Exeter to Barnstaple branch line to be closed to help speed up journeys.
The North Devon Public Transport Users' Group said that leaving just three out of 14 stations open on the Tarka Line could cut 15 minutes off journeys.
The move would lead to journeys between the city and town taking under an hour.
However, critics said that the proposal would mean several communities would be neglected.
'Reasonable and fair'
The 40-mile (64km) line, which passes through some of Devon's rural heartland and England's only Unesco World Biosphere Reserve, was opened in the 1860s.
It subsequently became known as the Tarka Line after the animal hero in Henry Williamson's book, Tarka the Otter. Descriptions of the area feature heavily in the 1927 novel.
More than 450,000 people use the line annually.
John Gulliver, from the transport users' group, said any journey taking more than an hour to reach mainline services was "too long for an area which has a population of well over 100,000".
He said: "A shorter journey time would mean all passengers are being treated well and fairly."
He added that such a move would only affect about 8% of passengers.
He said: "There are people in north Devon who already have to travel 10 miles [16km] or more to reach their rail link.
"We think it's reasonable and fair to ask people further along the line to do that kind of thing too."
But other passenger groups said areas served by stations - including Copplestone, Morchard Road and Kings Nympton - should not be cut off.
John Burch, from the Tarka Rail Association, said: "The importance of those stations is that they service the communities around them.
"As a community association, we cannot ignore the importance of those communities."
County Councillor Nicholas Way, who represents the Crediton Rural ward, said the cuts proposal was an "outrage".
The Liberal Democrat said: "Footfall [at stations] has increased over the years and huge amounts of money have been put into them".