Syria escape photographer Paul Conroy 'in good spirits'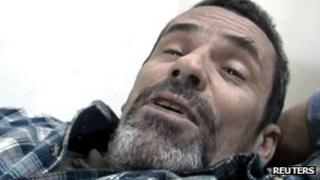 An injured British photographer who escaped from Syria to Lebanon is "in good spirits", his wife has said.
Paul Conroy, 47, originally from Liverpool but who now lives in Devon, was injured last week in an attack in Homs which killed two journalists.
He was smuggled out of conflict-torn Homs by Syrian rebels. Prime Minister David Cameron said he was taken to the British Embassy in Beirut.
Mr Conroy's wife, Kate, said she had spoken to him and she was "overjoyed".
Family 'relieved'
Mr Conroy, who lives in Totnes, was working for the Sunday Times and was in a media centre which was shelled by Syrian government forces on 22 February. His leg was injured.
The same attack killed the newspaper's war correspondent, Marie Colvin, and French photojournalist Remi Ochlik.
In a statement issued through the Sunday Times' publisher, News International, Kate Conroy said: "I have spoken to Paul and he sounded in good spirits.
"The family are overjoyed and relieved that he is safe and look forward to getting him home."
Speaking to the BBC, Mr Conroy's brother, Alan, added that the family had all been "a bit worried" and had kept in close contact with each other to keep abreast of developments.
"We just ring each other up, find out if we've heard anything and pass the news about," he said.
"We've heard he's out. We don't know where he is, but we're happy he's out."
Mr Conroy's father, Les, from Liverpool, said: "We're all very relieved and happy that Paul's out."
Syrian opposition group the Local Co-ordination Committees (LCC) and activist group Avaaz told the Associated Press that Mr Conroy was smuggled out of Homs in an operation involving a team of 35 Syrian Army defectors.
'Incredibly high price'
Avaaz said three rebels were killed in government shelling while trying to help Mr Conroy through the neighbourhood and 10 others were killed trying to bring in aid while the journalist was on his way out.
Mr Conroy's MP, Totnes Conservative Sarah Wollaston, asked Mr Cameron to pay tribute to Mr Conroy during Prime Minister's Questions in the House of Commons.
She said: "Will the prime minister pay tribute to his courage, as he was injured showing the horrors of the Syrian regime.
"Will he also join me in thanking all those who helped secure his safe passage?"
Mr Cameron replied: "I will certainly pay tribute and, above all, also to the very brave people who aided him, many of whom who have paid an incredibly high price."
The prime minister then confirmed that Mr Conroy was in Beirut.
He said: "He is being properly looked after, and I'm sure that soon he'll want to come home."