Crumb Rubber told to move rubble it dumped in Devon woodland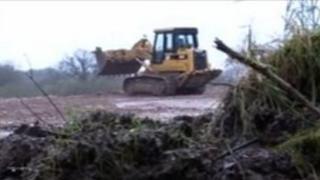 A company which was filmed dumping rubble onto ancient woodland in Devon has been told to remove it.
Crumb Rubber based in Roborough, Plymouth, was told at a public inquiry to remove 3,000 tonnes of the material within a month.
It was also ordered to replant trees to bring Strashleigh Hams "back to life". In 2010, environmentalists filmed the firm leaving the rubble there.
The company said it regretted the incident.
'Beautiful area'
Devon County Council, who brought the action against Crumb Rubber, said it would not tolerate illegal tipping.
"They have to replant according to specifications, which an inspector has agreed, in order to try to bring that area back to life," the spokesman said.
"The undergrowth, although it doesn't look spectacular at this time of the year, has been there for several hundred years so it's very difficult to recreate that."
Crumb Rubber said it regretted the "accidental violation of planning regulations" and was "heavily committed" to the environment and resolving the problems at woodland near Ivybridge.
Charlotte Mills, from environmental group EcoIvy, said: "We're pleased that Devon county have pursued this, it's a beautiful area of ancient woodland and wetland and we think that it's wrong that people have been allowed to abuse the planning regulation."