New Honiton food bank feeds 150 in six weeks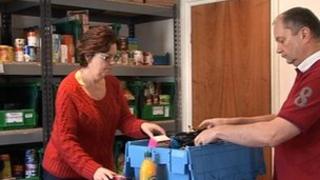 Workers at a food bank in east Devon have fed about 150 people in six weeks.
The King's Centre food bank in Honiton, which is run by local churches, offers food to people most in need based on a voucher system.
Staff at the food bank said demand had been high from across the area, and even from part of neighbouring Somerset.
Demand might mean it increasing the area it covered, managers said.
People wanting food have their needs assessed by professionals from local agencies and church leaders.
Norman Amey, of Honiton's Community Church, said: "We've had people from Sidmouth and people from Wellington in Somerset already travelling across."
Mr Amey said it was not only people who were considered as poor who had been using the service.
He said: "We've seen requests from people who had quite good jobs who were made redundant.
"There's a gap between being made redundant and receiving benefits and that's were we can step in."