Dartmoor family playhouse needs planning permission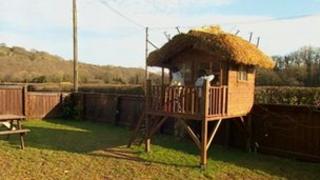 A family on Dartmoor have been told they need planning permission for their children's playhouse.
The Endacott family's wooden Wendy house is on stilts and has been thatched.
The family, from Dunsford, said it would cost them £150 to apply for planning permission.
Dartmoor National Park Authority said it told the family it broke planning rules, but it was happy to discuss an application.
'Innocent present'
Hugh and Justine Endacott said it had not crossed their minds they might need to get any official permission when they bought the kit for their two young boys as a Christmas present.
They fixed it in the ground to make it more stable and placed it in a spot where they could see it easily from their house to keep an eye on their children.
Mrs Endacott said the family had been "really upset" over an "innocent Christmas present for children which they absolutely adore".
She said: "They said something to do with it being too close to the highway. But there are a lot of things beside the road that are uglier than a little tree house.
"They don't seem to have any problems with those, and yet they're picking on us."
The park authority confirmed the house needed planning permission because it was located between the front of the house and the road, and was on a raised platform more than 30cm (12in) high.
A spokesperson from the authority said it was happy to discuss a planning application proposal to prevent any harm to the character and appearance of the area.