Easyjet charges man for dialysis machine on flight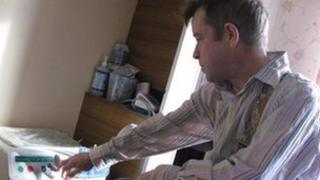 Easyjet has refunded a man £50 after charging him to take his dialysis machine aboard a flight.
Andrew Williamson, 44, from Ashburton in Devon, was charged a £50 excess baggage fee to take his 22kg medical equipment on the plane to France.
He said: "I have to pay an extra £50 for the privilege of being alive."
Easyjet apologised to Mr Williamson and said it had updated its policy and would no longer charge for the transportation of medical equipment.
Mr Williamson, who was flying from Bristol Airport to Grenoble, said he relied on the machine to pump fluid in and out of his body throughout the night to prevent toxins building up in his blood.
He said: "They [Easyjet] called me and I said I needed to take this machine. It weighs about 20kg and she said, 'that's fine, but it will cost you £50'.
'Charged in error'
"It's just not fair. I feel I'm being discriminated against. I'm not choosing to take this machine, I have to."
Before Mr Williamson's complaint the company stated on its website: "If you require to take more than the standard 10kg allowance you will pay a fixed fee per additional 12kgs carried."
Easyjet said it had since updated its policy to say that "vital medical equipment" could now be "carried free of charge".
In a statement the company said: "We apologise for any distress or inconvenience that Mr Williamson experienced.
"The £50 was charged in error and has been refunded in full."
It said it had informed all its staff of the updated information.
Mr Williamson said: "Their policy has changed now, which is fantastic and good for them for responding, but it should never have been an issue."